"But thanks be to God, who has given us the victory through our Lord Jesus Christ."
(1 Corinthians 15: 57)
Good News! Two reasons to celebrate this Easter time.
We are finally able to open our doors for worship in our building. The first service is at 10.30am on 4th April, Easter Sunday. Services will continue weekly at 10.30am on Sundays. All other church activities continue to take place online.
The Easter story with its invitation to new life is a cause for celebration in itself. Jesus' physical rising from death reminds us that our physical death is not the end of our story.
---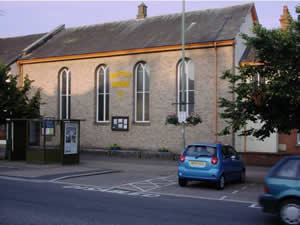 We are local people from all walks of life who love Jesus and have found a real joy and purpose in life.
We are not only Christians on Sunday but we encourage each other to live out our faith through the week, whether this is at work, in the home or enjoying leisure activities with others.

The church seeks to serve the community and we are pleased that a number of organisations in the town meet in our church premises.
---

The promise of Easter

by Helen Steiner Rice
"Because He lives we too shall live" -
We need these seven words above
The changing world around us
that is dark and insecure,
To help us view the present
A troubled, brief encounter
on life's short and troubled road.
For knowing life's eternal
Makes this uncertain present
in a world of sin and strife
Nothing but a stepping-stone
to a new and better life!